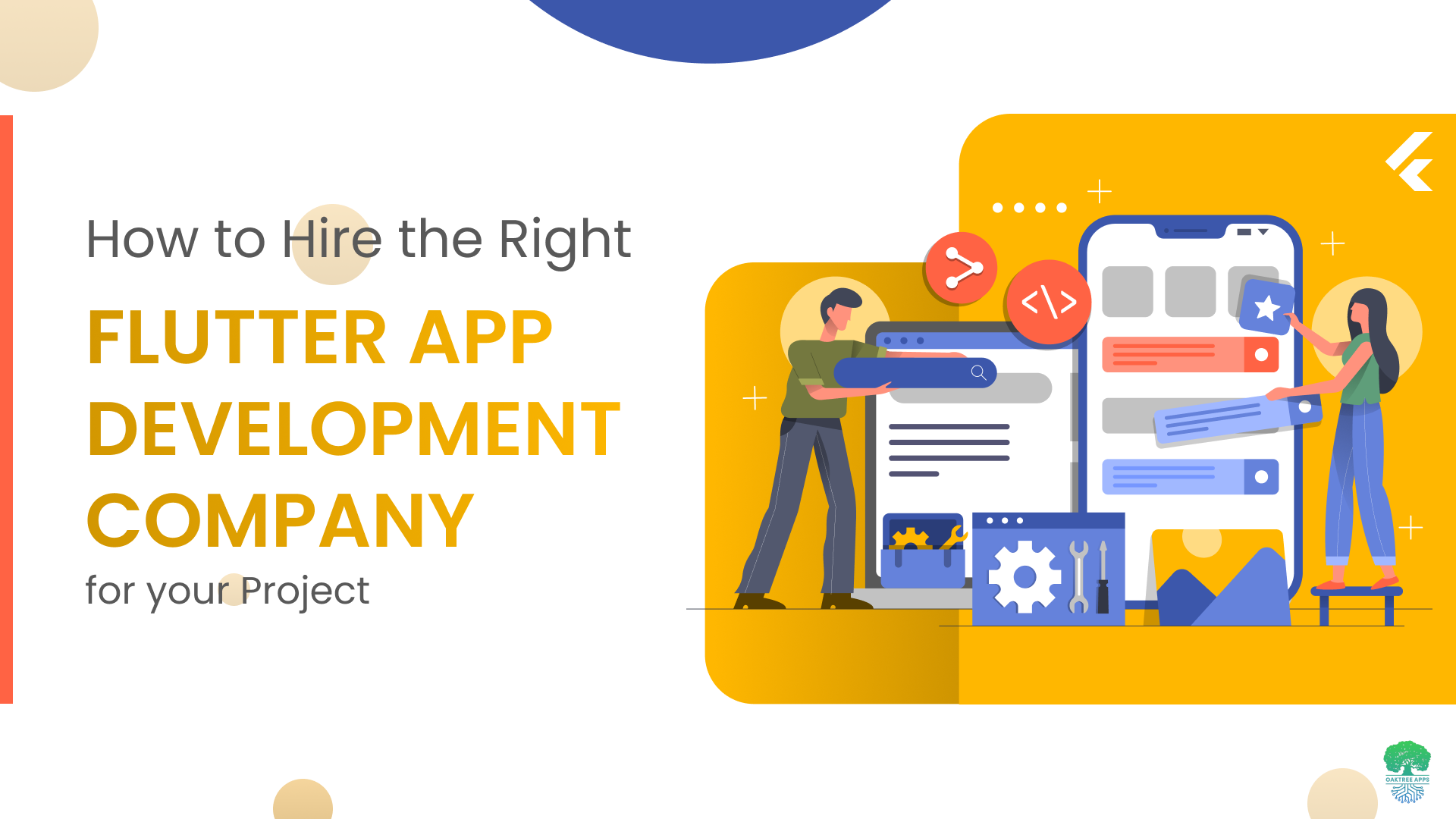 Have you ever found yourself in a situation where you have come up with a game-changing idea for a product but don't have the expertise to bring it to life? This was precisely the situation that Jane, a small business owner, found herself in. She knew that having a mobile app for her business could be a game-changer, but she didn't know how to build one and didn't have the time or resources to learn.
Fortunately, Jane soon discovered Flutter, a leading open-source UI software development kit created by Google that allows developers to build high-quality mobile apps for iOS and Android platforms. Flutter's popularity can be attributed to its extraordinary opportunities in cross-platform development, which enables businesses like Jane's to create mobile apps that work seamlessly on both platforms, reducing development time and costs.
Excited about the possibilities, Jane set out to find the right Flutter app development company to bring her ideas to life. However, the search proved to be more challenging than she anticipated. With so many options available, Jane needed guidance about how to make the right decision. In this blog, we'll explore the key factors that Jane considered when selecting a Flutter app development company and provide you with the tools you need to make an informed decision for your own app development project.
Why Flutter for Development?
Since its launch in 2017, Flutter has taken the development world by storm. According to Statista, approximately 42% of software developers worldwide used Flutter in 2021. This number is set to increase rapidly to cater to the ever-growing demand for cross-platform app development, as it provides organizations with a cost-effective way to expand their user base.
Flutter has emerged as a powerful tool for developing high-quality mobile and web apps for iOS and Android platforms, providing a fast and smooth performance and a seamless user experience. Its hot reload feature and customizable widgets make development more efficient and enable developers to create beautiful UIs quickly. One of the most significant advantages of Flutter is its ability to provide a native-like experience on both iOS and Android platforms, thanks to its reactive framework and customizable UI.
Flutter's mild learning curve and open-source, free framework make it an ideal choice for companies looking to save resources, simplify the delivery process, and avoid the limitations of other frameworks. Flutter allows developers and companies to create Android and iOS apps without spending too much money.
Why Do You Need to Hire a Specialized Flutter App Development Company?
A specialized Flutter app development company will have the necessary expertise, resources, and experience to develop a high-quality app that meets your specific requirements. The company will ensure your project is completed on time and within budget and provide guidance on best practices, innovative solutions, and ongoing support. On the other hand, a bad hire can lead to a poorly developed app that may have bugs, security vulnerabilities, and poor user experience, which can lead to lost revenue, negative user reviews, and damage to your brand reputation.
Ready to kickstart your Flutter app development project?
Join hands with us and take your first step towards the success of your Flutter project!
Schedule a consultation now
While Flutter makes it easy to create beautiful and responsive applications, challenges and complexities can arise during development.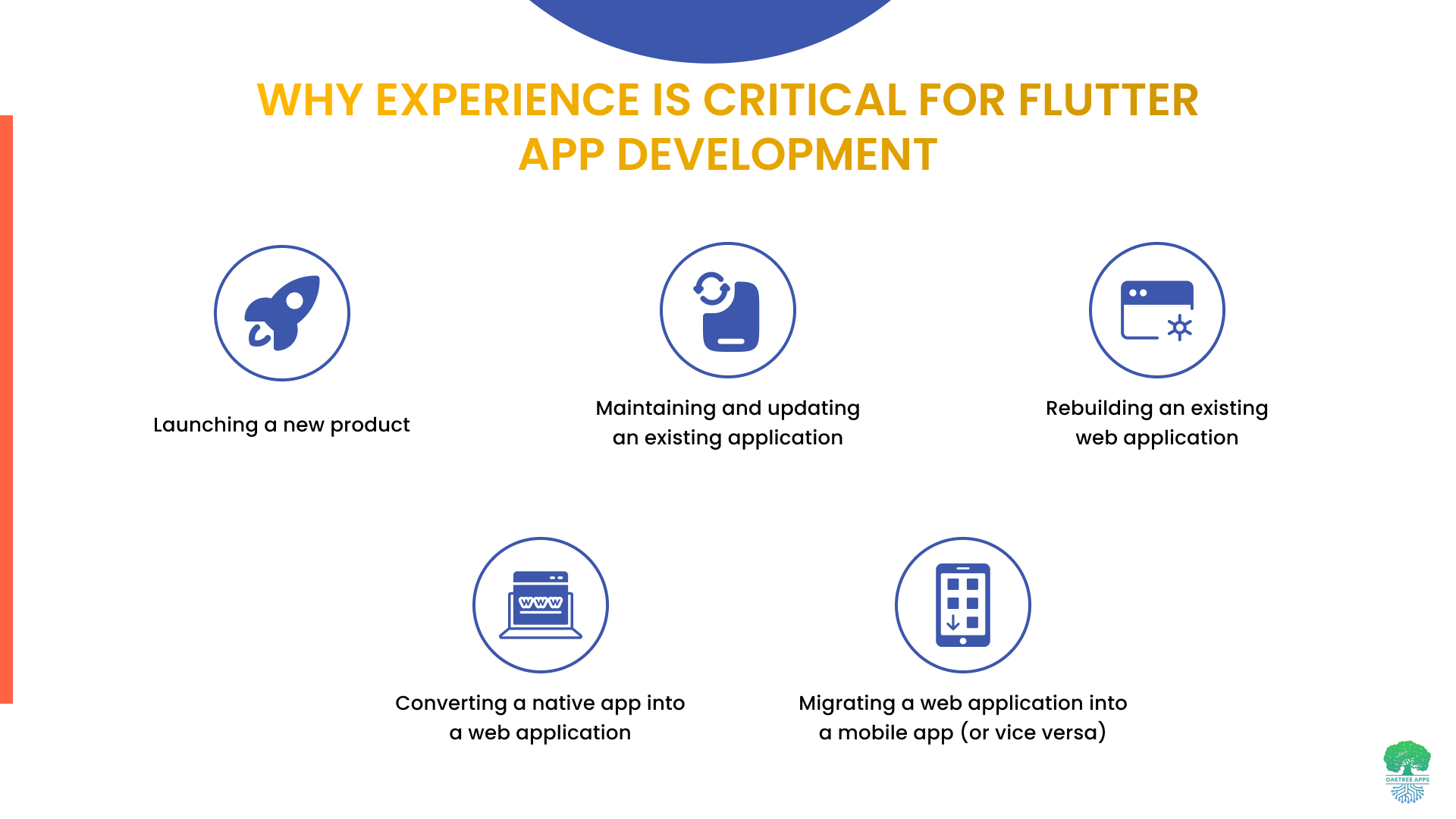 Some possible scenarios where experience is critical for Flutter app development are:
Launching a new product
Maintaining and updating an existing application
Rebuilding an existing web application
Converting a native app into a web application
Migrating a web application into a mobile app (or vice versa)
Each of these scenarios has unique challenges that require experience to tackle effectively. For example, launching a new web application may require a team of experienced designers, developers, and project managers to validate the idea and ensure the solution addresses the target audience's needs. With professional developers on your team, you can avoid common pitfalls and ensure that your web application is a success.
A seasoned Flutter web development company can help you speed up your development process by leveraging their experience in building web applications. They can help you identify and overcome potential roadblocks quickly, ensuring your application is launched on time.
Experienced developers are more likely to write high-quality code that is easy to maintain, scale, and modify and ensure that your application is built using the best coding practices and is optimized for performance.
An experienced Flutter development company can help you reduce your overall development costs. They can help you identify areas where you can save costs, such as by reusing existing components or implementing efficient coding practices.
A reliable Flutter web development company will provide ongoing support and maintenance services to ensure your web application stays up-to-date and runs smoothly. They will also help you make necessary updates and improvements as your business grows and evolves.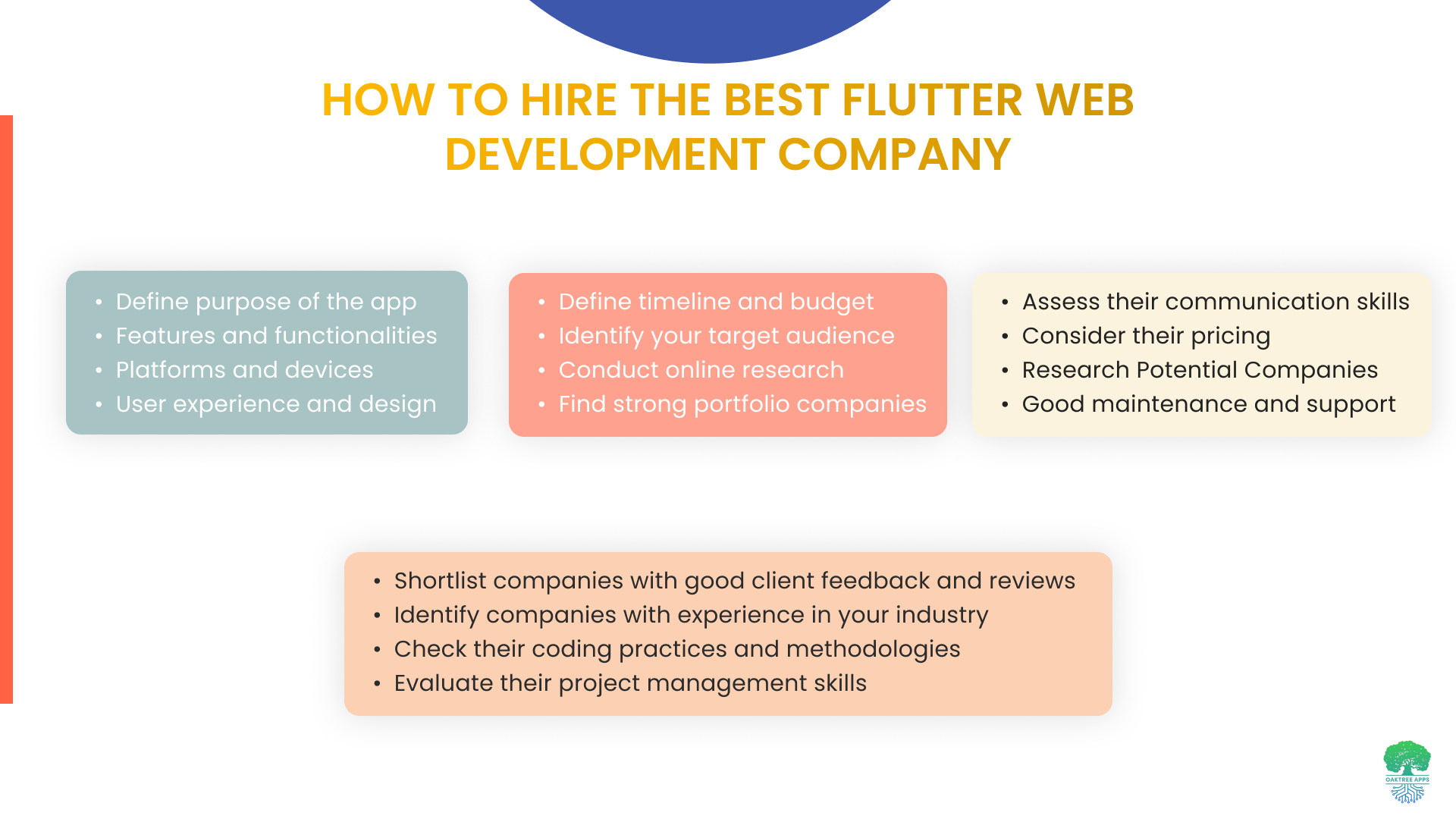 How to Hire the Best Flutter Web Development Company

Define Your Requirements

Before even you start searching for the best flutter app development company, it is critical to refine your requirements. Here are some factors you should consider:

Purpose of the app: What is the purpose of your app? Is it a consumer-facing app or an enterprise app? What problem does it solve for your target audience?

Features and functionalities: What features and functionalities do you want to include in your app? Do you need any custom features or integrations with third-party services? Make a list of the features and functionalities you want to include in your app, such as push notifications, in-app purchases, and social media integrations.

Platforms and devices: Which platforms do you want your app to be available? Do you want to develop a mobile, web, or desktop app? Will it be available on iOS, Android, Web or Windows? Do you want it to be responsive to different screen sizes and devices?

User experience and design: What kind of user experience do you want to provide your app users? Do you have any design preferences or guidelines?

Timeline and budget: What is your timeline for the project? Do you have a specific budget in mind? This will help you to identify the Flutter app development companies that can work within your budget and timeline, such as a top Flutter app development company in India, the USA, or other parts of the world.

Identify your target audience: Identify your target audience based on factors such as age, gender, location, and interests. This will help you to design an app that meets their requirements and provides a good user experience, which is critical for the success of your app.

Research Potential Companies

Conduct online research: Use search engines, social media, and business directories to identify companies that offer Flutter app development services. Check out their websites and get a sense of their experience, services, and portfolio.

Look for companies with a strong portfolio: When hiring a Flutter web development company, it's crucial to ensure they have significant experience and expertise in Flutter development. Check their portfolio to see their previous work in Flutter development and assess the quality of their work.

Shortlist companies with good client feedback and reviews: Positive client feedback strongly indicates a company's quality and customer service. Look for companies with a track record of delivering projects on time and within budget while providing excellent customer service.

Identify companies with experience in your industry: Choose a company with experience working in your industry or niche. This will ensure that they understand your business needs well and can develop an application that meets your requirements.

Check their coding practices and methodologies: A good Flutter development company should follow standard coding practices and methodologies to ensure your project is delivered on time and within budget. You can ask for references from their past clients and check their reviews online to get an idea of their coding practices and methodologies.

Assess their communication skills: Effective communication is critical in any project, and it's no different when hiring a Flutter web development company. You should choose a company with excellent communication skills and responsiveness to your queries and concerns. You can assess their communication skills during the initial meetings and discussions.

Evaluate their project management skills: A good Flutter web development company should have excellent project management skills to ensure that your project is delivered on time and within budget. You can ask for their project management methodology and the tools they use to track project progress and deliverables.

Look for a company that offers maintenance and support: Once your web application is launched, it's crucial to have ongoing maintenance and support to ensure it functions correctly. You should choose a Flutter web development company that offers maintenance and support services after the launch of your web application.

Consider their pricing: Finally, you should consider the pricing of the Flutter web development company before hiring them. You should choose a company that offers competitive pricing and delivers quality work within your budget.

Similar to how Jane found her ideal development partner, you can also find the right Flutter web development company based on the above criteria, carefully evaluate potential development partners, and select a team with the right skills and experience to ensure the success of their Flutter development project. And this is where we shine!

Let's Start Creating Your Dream Flutter App

Experience Why OakTree Apps is Regarded as the Best in Flutter App Development

Contact us today

We are confident we can deliver a high-quality and efficient solution to your needs. Our experienced Flutter developers have a proven track record of developing and deploying successful mobile and web applications. Our focus on communication, collaboration, and transparency ensures that you will be involved in every step of the development process. You can be assured of a seamless and successful project delivery by choosing us as your Flutter development partner, resulting in a superior user experience and maximum ROI.

0