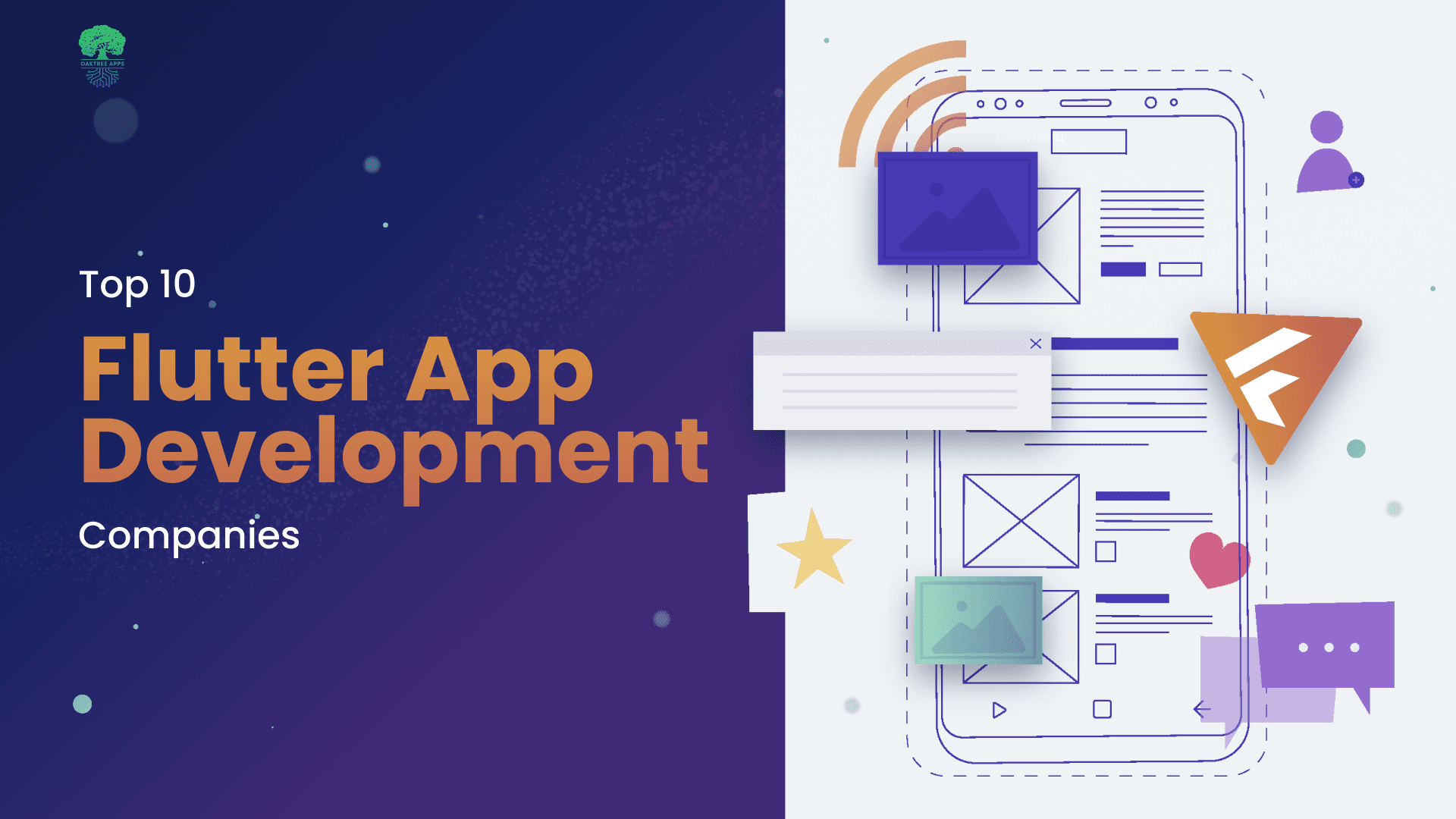 Flutter, the renowned open-source software development kit, is a driving force behind the creation of high-fidelity applications. Its popularity has surged across startups, SMEs, and large enterprises, drawn by its excellence. Notable applications like Google Greentea, Google Ads, and Alibaba have harnessed Flutter's capabilities.
Flutter development is your answer if you're a startup founder seeking cost-effective app development or aiming to expedite your product's time-to-market. Its flexibility and native features captivate Dart programmers and app development services, leading enterprises to embrace this technology for optimal outcomes.
Crucial Choice: Selecting the Ideal Flutter Development Partner
The significance of choosing the right development company cannot be overstated. A well-matched partner ensures your Flutter app project's success from inception to execution. A proficient company aligns with your vision, possesses the requisite Flutter expertise, and has a track record of delivering exceptional solutions. Effective communication, transparent processes, and a client-centric approach are vital traits that streamline collaboration.
With the right company, you gain not just technical prowess, but also strategic guidance, timely updates, and a seamless development journey. Your app's performance, user experience, and overall market impact depend on this pivotal decision.
Criteria for Assessing Top Flutter App Development Companies
The rankings of the top Flutter app development companies are based on several criteria:
Flutter Expertise: Companies with a proven track record in Flutter development are ranked higher.
Client Ratings: Higher ratings on platforms like Clutch indicate client satisfaction and quality work.
Diverse Portfolio: A varied portfolio showcases versatility and expertise in different industries.
Location: Location can impact communication and collaboration preferences.
Cost Factors: Competitive hourly rates and budget flexibility appeal to various clients.
Minimum Project Budget: It helps clients assess if the company aligns with their financial resources.
Client-Centric Approach: Effective communication and transparency are vital for successful partnerships.
Innovation Focus: Companies staying updated with Flutter and tech trends offer innovative solutions.
Global Presence: A wider reach indicates adaptability to different markets and trends.
Strategic Guidance: Some companies offer valuable strategic advice beyond development.
Top 10 Leading Flutter App Development Companies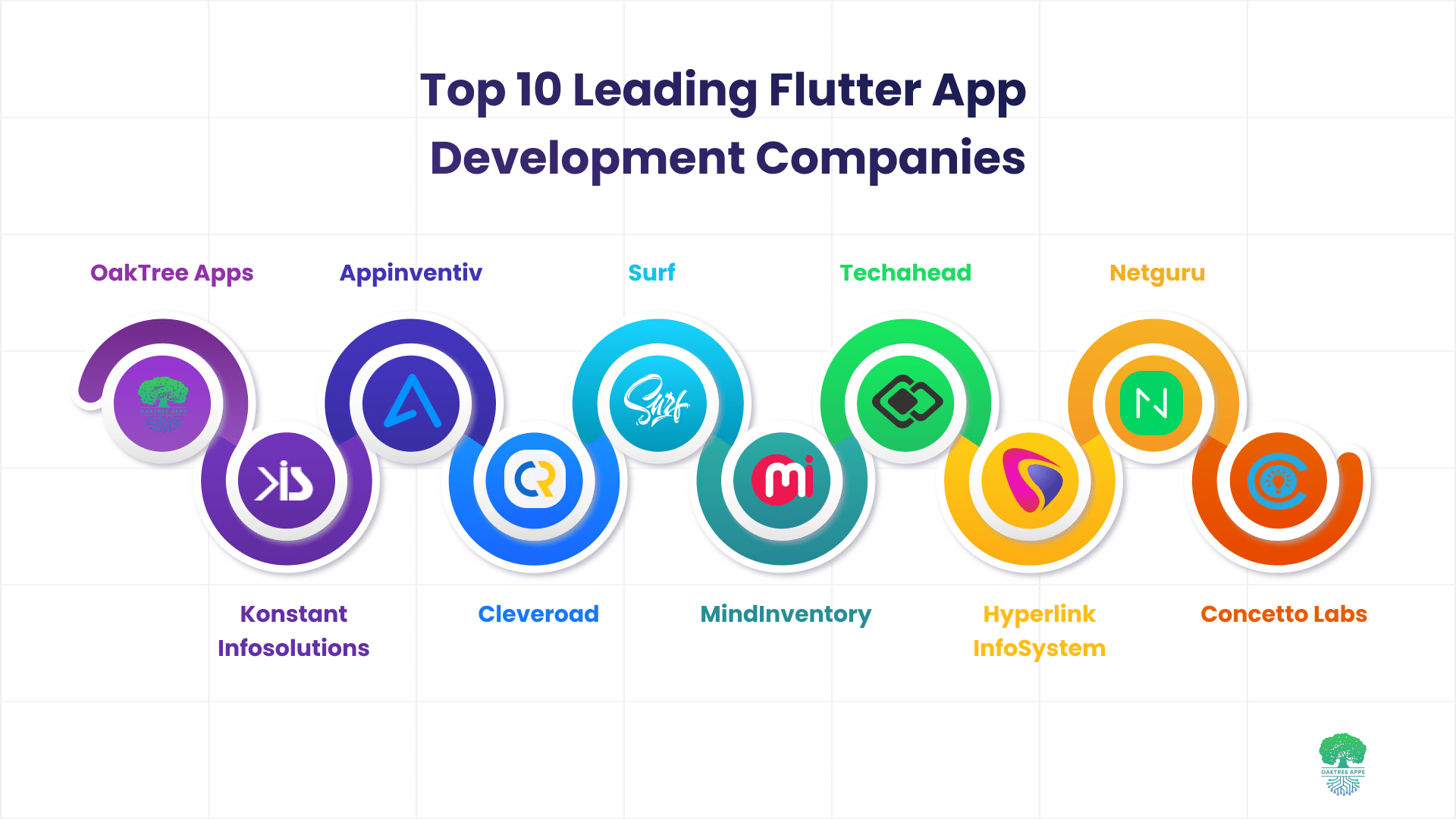 Undoubtedly, OakTree Apps stands as a global frontrunner in Flutter development. Boasting a team composed of industry-leading experts, their profound mastery of Flutter technology is evident in their remarkable track record. OakTree Apps consistently delivers innovative solutions across industries, setting new standards for functionality.

Their commitment to staying at the forefront of Flutter's advancements ensures clients receive unparalleled expertise that caters to the unique demands of their projects. With OakTree Apps, expect not just development, but a partnership that propels your app vision to new heights.

Let's connect with the Flutter specialists of OakTree and start your Flutter app development.

About OakTree Apps

Location: United States

Hourly rate: $100 - $149

Minimum project budget: $25,000+

Clutch rating: 4.8

Ready to Transform Your Business with a Top-Notch Flutter App?

Let's build something extraordinary together!

Contact Us Today

In the dynamic landscape of top-tier Flutter app development companies, Konstant Infosolutions emerges as a true pioneer. With an India-based foundation, the company has earned prestigious ratings from renowned business review platforms, including Clutch, Business of Apps, and IT firms. Boasting an impressive 20+ years of experience and an impeccable record of 2500+ successful project deliveries, Konstant Infosolutions is synonymous with expertise and reliability.

What sets Konstant Infosolutions apart is its ability to craft exceptional solutions that transcend boundaries. Their comprehensive service portfolio caters to diverse business needs, from web and mobile app development to cutting-edge UI/UX design and cross-platform innovations. Notably, they've perfected the art of Flutter development, offering top-notch services at a competitive price point.

About Konstant Infosolutions

Location: India

Hourly rate: < $25

Minimum project budget: $5,000+

Clutch rating: 4.8

Appinventiv, where Flutter app development reaches new heights. A creative force that focuses on expanding what is possible in the digital sphere, Appinventiv is more than simply a business.

In the dynamic landscape of Flutter development, Appinventiv's flag flies high as a beacon of excellence. Every project they work on demonstrates their dedication to pushing the limits of technology. With a portfolio adorned by a diverse array of successful apps, ranging from disruptive startups to established enterprises, Appinventiv brings adaptability and expertise to the forefront.

About Appinventiv

Location: United States

Hourly rate: $25 - $49

Minimum project budget: $50,000+

Clutch rating: 4.7

Whether you're starting from scratch, improving an existing app, or boosting your IT capabilities, Cleveroad has your back. Their services are more than solutions; they're the bridges to your growth dreams.

Cleveroad's true strength lies in crafting Flutter apps that dazzle. With this modern framework, they create apps that feel native and perform impeccably. What makes them exceptional? Their commitment to being on time and within budget.

Cleveroad believes in fast delivery without sacrificing quality. They enable businesses to launch apps and updates swiftly, all while ensuring users love what they experience. Join hands with Cleveroad and let them make your tech dreams a stunning reality.

About Cleveroad

Location: United States, Ukraine

Hourly rate: $25 - $49

Minimum project budget: $10,000+

Clutch rating: 4.9

Surf is a renowned Flutter app development company with over 12 years of experience. They create flagship mobile and web applications for B2B and B2C sectors, earning trust from global giants like KFC, Mars, Burger King, and SAP. Surf's Google partnership and in-house R&D lab give them a pioneering edge in Flutter services. With a singular codebase for versatile screens, Surf saves up to 40% time and budget, guiding clients from vision to a stellar digital product.

About Surf

Location: United States

Hourly rate: $50 - $99

Minimum project budget: $100,000+

Clutch rating: 5

Steering the course of Flutter app development since its inception in 2011, Mindinventory emerges as a paramount player. With over ten years of experience, they have meticulously honed their skills in crafting high-quality mobile applications.

Central to Mindinventory's success is its seasoned team of app developers. Their profound understanding of Flutter development empowers them to create innovative, feature-rich applications tailored to enterprises of varying scales.

A distinctive forte lies in constructing hybrid applications that seamlessly operate across diverse platforms and devices. Engaging with global clients, they deliver user-friendly, feature-abundant apps, meticulously devoid of glitches. What further sets them apart is their ability to provide customized solutions, adapting to each client's unique needs.

About Mininventory

Location: India

Hourly rate: $25 - $49

Minimum project budget: $10,000+

Clutch rating: 4.6

Techahead, a dedicated Flutter app development company, crafts purpose-driven apps and digital solutions. Over 2000 successful app deliveries since 2009 testify to their prowess. With a keen eye on human-centric design, secure architecture, and scalable solutions, they stand committed to excellence.

A portfolio adorned with global giants like Audi, Disney, and Starbucks underscores Techahead's proficiency. Their comprehensive Flutter services encompass ideation, migration, support, API development, and customization.

Pioneers of Flutter adoption, TechAhead's 13+ years of app development experience shines. With a 250+ strong team, they've served 700+ clients, including AXA, American Express, and ESPN. Fueled by quality and innovation, their experts blend cutting-edge tech to deliver world-class projects, ensuring customized solutions that drive business success.

About Techahead

Location: United States

Hourly rate: $25 - $49

Minimum project budget: $25,000+

Clutch rating: 4.8

With a legacy that started in 2011, Hyperlink InfoSystem has left an indelible mark, serving 2300 global clients and delivering over 4000 apps and 2000 website projects. Their versatile team crafts the smartest, swiftest solutions for cross-platform app development, integrating top-tier technologies like IoT, Salesforce, and AI for extraordinary outcomes.

Flutter app development at Hyperlink InfoSystem signifies seamlessness and functionality. Their adept developers create cross-platform apps that harness a single codebase. With their wealth of expertise, they blend development experience into each project.

About Hyperlink InfoSyatem

Location: India

Hourly rate: $25 - $49

Minimum project budget: $25,000+

Clutch rating: 4.9

Netguru transforms learning languages, music, and bike rentals. Their adept Flutter developers craft bespoke software for diverse businesses. Achieve online excellence with Netguru's cross-platform solutions, elevating your competitive edge.

About Netguru

Location: Poland

Hourly rate: $50 - $99

Minimum project budget: $25,000+

Clutch rating: 4.8

Rising among the world's dynamic Flutter development companies, Concetto Labs thrives on agility. Their approach simplifies project processes and enhances app functionality management. With seasoned developers at the helm, completed projects and elevated client retention rates fuel their domain expertise across industries.

About Concetto Labs

Location: India

Hourly rate: < $25

Minimum project budget: $1,000+

Clutch rating: 4.7

Transform Your Ideas Into Extraordinary Flutter Apps

Whether you need a groundbreaking app for iOS, Android, or both, we have the expertise to deliver

Talk to Flutter Experts

Conclusion

These are the best Flutter development companies. Always remember the best flutter development for you will depend on your project requirements, goals, and other critical factors like budget. So select the right Flutter development company only based on your needs.

0